Happy Summer!

Teacher Trainings filling up for 2013
Register soon to be sure you have a space!
Kindergarten Teacher Training, July 26-28
Details and registration here:
http://www.waldorfwithoutwalls.com/seminars/kindergarten_training__2013

Grades 1-8 Teacher Training, August 1-4
Details and registration here:
http://www.waldorfwithoutwalls.com/seminars/teacher_training_2013
Come and enjoy life in the country, while you learn. Other amenities include the use of Barbara's extensive library, ability to prepare for two grades, canoe, swim, hike, visit the chickens and cows, evening activities, such as campfire, discussions and crafts.
Taproot Farm Progess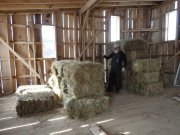 Fall lasted pretty late in 2012. We were able to keep harvesting the garden until well after Thanksgiving. We were able to get the barn up, framed and sided by early December, but then the weather closed in before we could get a roof on! Thankfully an early January thaw gave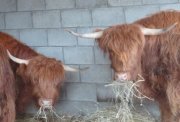 us two or three 60-70 degree days to get a roof on, and a few weeks later one more warm day allowed us to get the gutters on. So by the end of January, the cows had a warm shelter to get fed and chew their cud! The upstairs has hay storage with a trapdoor to drop nice dry hay down to their space. Here is Quimby standing beside the trap door. Frick and Frack are happy eating the hay down below!
During the winter, we grew tomatoes inside again, in our attempt to have homesgrown tomatoes all year round. We still are missing about a month. We'll try again this next winter!
The garden got planted pretty early this year, all in by the 24th of May, when we left for our Alaska trip leaving the farm in the capable hands of Karen and Travis. The first two nights we were gone, there was a deep freeze, but they managed to cover and save everything! Now the garden is looking really good!
We have had a bumper crop of strawberries and it looks like the wine berries and blackberries will be good too, if the rain keeps coming. We have apples and peaches on our trees, too!

Alaska Trip

On May 24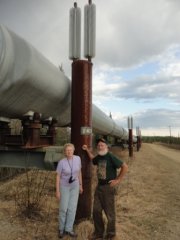 , we took off from Pittsburgh for an 18 day trip to Alaska, starting in Fairbanks, where we stayed with a UU family. The man is the professor of entomology at U of Alaska Fairbanks and curator of the biological portion of the Museum of the North. His wife is a quilter. We got a behind-the-scenes tour of the museum, saw the sand hill cranes, hiked, visited the Alaska Oil Pipeline, saw a lot of uniquely Alaskan quilts, this one of an insect, and went to the local Farmer's Market. Spring was just arriving there the end of May, so we got to see crocuses and daffodilsand budding leaves all over again!
We went on to spend three days in Barrow, which is governed by the Inupiaq tribe of Eskimos, as is the whole North Slope. They still maintain their native customs of sharing everything. They are allowed to hunt whales, se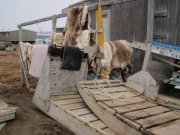 als, caribou and other animals within limits, using every part of the animal and sharing it with the whole tribe. When they are walking along the street with a bag of donuts, they offer one to everyone they pass, friend or total stranger! Due to the cold, snowy climate, the houses are very close together and the yards offer a view of the mix of modern and ancient customs. Each yard contains, a wooden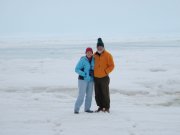 dog sled, a snowmobile, a swing set, a skin covered boat, caribou and seal hides in various stages of tanning, a car and/or truck, plastic kid's toys, and dirty melting snow or mud, not your typical tourist destination, but we appreciated the usefulness of everything in their lives.
We were able to see some of their dances, and watch artisans carving ivory and baleen. Due to the thawing of the permafrost, they are also finding wooly mammoth bodies that have been preserved in the ice for thousands of years, and they are making things out of them. Quimby bought me a pair of earrings made of fossilized mammoth ivory, and we bought a sculpture made of many of these animal parts.
We went to Point Barrow, and put our hands in the Arctic Ocean. Now I can say I have been in the Arctic and the Antarctic Oceans! Here we are standing on the sea ice of the Arctic Ocean. We also met the entomologist and the ornithologist who teach at the college in Barrow. Of course they and Quimby knew a lot of the same people! Small world!
We flew back to Fairbanks, where we got the train to Denali. The lodges at Denali are very touristy, not our favorite! We did meet and spend some time with a woman who had grown up on a homestead in the interior. The train ride was great, though, and even better the second day as we went through the interior toward An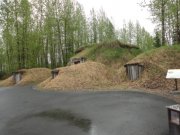 chorage.
In Anchorage we stayed in a backpacking hostel. There we met a lot of people from other countries: Italy, France, Russia, etc, w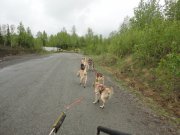 ho were there backpacking and climbing mountains. The museum in Anchorage had full size outdoor examples of all the kinds of homes of the various tribes in Alaska, depending on the climate and what was available to them for building. The homes were furnished and decorated with the art and utensils of each tribe. We also got to ride in a dog cart, pulled by one of the Iditerod winning dog teams. That was fun!
From there we took the train to Whittier, where we boarded the Marine Highway Ferry, th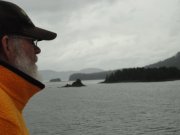 e Kennicott, for a five day trip down the Northeast coast and inside passage to Bellingham WA. We had a cabin with a porthole and sleeping bunks. The first day and a half we were in the open Pacific and it was quite rough. The weather was pretty rainy and foggy, as it is much of the time in the Pacific Northwest, but we enjoyed it. We had stops in Yukatak, Juneau, and Ketchikan.
In Juneau, we went to see the Mendenhall Glacier, which Quimby had climbed fifty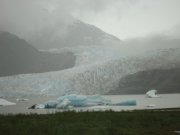 years ago when he worked for the Forest Service in Alaska. What a shock! When he was there before, it was wilderness. They drove up on a muddy woods road, and hiked the rest of the way in. Now it is all paved with tourist paths and visitor center, and picture spots. And the glacier has melted hundreds of feet back from where it was. A real wake-up call for global climate change! Very interesting, but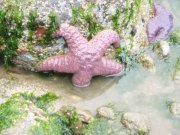 disappointing!
In Bellingham we were met by Quimby's niece and her husband for three days of red-carpet treatment and tours of Whidbey Island. We ate all kinds of amazing seafood: scallops, mussels, salmon, and Dungeoness crab. We hiked, played on the beach, saw starfish and other Pacific sea animals of the Northwest, saw some of the kinds of plants and trees that only grow there, in the temperate rain forest.
Our 18 days were over and we headed home. My grandson, Travis and my daughter Karen had taken good care of the animals and garden. It was good to be home!
Book Review:
Painting and Drawing in Waldorf Schools, by Wildgruber
This is the book we all have been waiting for!

It contains everything you need to learn how to draw and paint yourself, as an adult, giving you lesson assignments to do.

It covers Form Drawing as well.
The second section of the book is devoted to grades 1-8, with 20 – 40 assignments geared to the main lessons of each grade level.
With 384 pages, 800 color illustrations, this book is a bargain at $40.
Waldorf Student Art
Every year the Chicago Waldorf school solicits wet on wet water color paintings from Waldorf Schools throughout North America, and puts together a calendar featuring art from the Waldorf curriculum. The calendar also includes a step by step illustrated guide to this method of painting, and a description of the Waldorf curriculum through the grades. They also feature note and greeting cards.
We feel that this is a lovely resource showcasing Waldorf education. Here is the link to the website
http://chicagowaldorf.org/resources/calendar-notecards

Cleveland OH Waldorf School to Open!
Welcome to Urban Oak School! Cleveland's long-awaited Waldorf School. Urban Oak is now accepting applications for its inaugural 2013-2014 school year, serving students from preschool through grade two. We will expand each year to reach grade eight. http://www.urbanoakschool.org/
Waldorf College in England
Bridging the Gap successfully supports young people 16 -18 years in their full-time education, especially those young people who are not thriving in other education environments. This is because the education we offer is experientially based, and our students learn from having to draw on something from themselves and this process works to give them confidence, take initiative, be creative and learn about themselves. The course is accredited and partially funded and begins in September.
Tel: +44 (0)1453 840009
www.waldorfcollege.org.uk