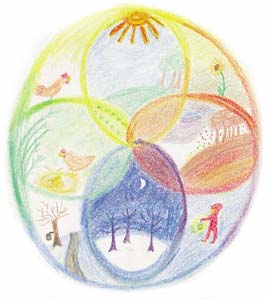 Barbara Dewey's Waldorf Consulting Service
I can provide individualized homeschool curriculum planning and support for you and your children, resources used by waldorf teachers, specific suggestions for your child, and answers to your questions as they come up throughout the year. This is accomplished through the Internet, fax, mail, or e-mail.
Frequently Asked Questions
How do you know the needs of my particular child?
You will be expected to fill out a basic questionnaire for each of your children, so that I can have a profile of his/her personality or learning style.
Do you send a prepared curriculum?
I give you as much help as you need to prepare an on-going curriculum based on your child's day-to-day needs. Waldorf education and its success is based on the daily interaction between the student and teacher. The curriculum is the result of that interaction. I can help you make that interaction spiritually meaningful and constructive.
How will I be billed?
There are two payment schedules. You can pay by the half-year, or save by purchasing a year at a time.
How do I contact you?
The best way is through e-mail, at barbara.dewey@gmail.com. I can also be reached by phone between 8 A.M. and 6 P.M. Eastern time. If I am not right there, I will call you back as soon as I can. Snail mail and fax are also available. See contact page for address.
How do I obtain books and resources?
I provide many of the resources you will need. I have arranged discounts for my clients at various vendors. I also have researched state library systems for mainstream books. You can also join the Rudolf Steiner Library, a mail-order library of anthroposophical books.