2018 Teacher Training will be held from August 2–5
Waldorf Without Walls & Waldorf-Inspired Learning present
The 12th Annual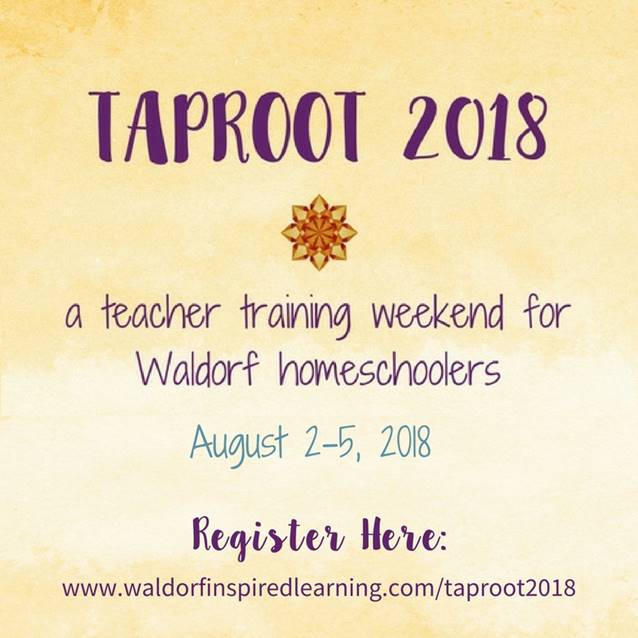 For Waldorf Homeschoolers
Grades K–8
August 2-5, 2018
Come and enjoy the wooded surroundings of the Shaw Retreat Center on the grounds of the beautiful Camp Asbury while you immerse yourself in hands-on learning with other Waldorf homeschoolers from all over the country. Join us for small, intimate workshops in the main lessons and lively arts that bring this method alive. Together, we'll sing, create, share stories, hike and play games. The magic of Taproot is the warmth and community, support, great conversations and laughter that emerge during this three-day weekend.
We offer this training to suit the unique situation of homeschooling parents and teachers of small groups, keeping in mind the advantages of working in a home, while applying Rudolf Steiner's philosophy to the needs of the homeschooling family.
The registration fee includes all workshops, dormitory accommodations, meals and snacks for the entire weekend, Thursday evening through Sunday midday. That's 10 workshops plus Morning Circle each day, 9 meals plus snacks. The camp staff provides a delicious menu of meals using local ingredients as much as possible and can accommodate most special dietary needs. The Shaw Retreat Center is situated in a beautiful area surrounded by woods, hiking trails, waterfalls and an outdoor fire circle.
Nursing infants are welcome with a participant caregiver who is familiar with the child and able to remove the child if he or she becomes disruptive. We are unable to provide childcare.