Waldorf Without Walls presents
Homeschool Kindergarten Training
At Taproot Farm, Barbara's home
Tuition $200
July 26-28, 2013
Two day weekend course
Tuition includes room and board.
Come and enjoy life in the country, while you learn. Other amenities include the use of Barbara's extensive library, canoe, swim, hike, evening activities, such as campfire, discussions or games.
It is our purpose to offer a training to suit the unique situation of homeschooling parents and teachers of small groups, keeping in mind the advantages of working in a home, applying Steiner's philosophy to the needs of the homeschooling family.
These are very comfortable accommodations, although we are not a hotel. You may be sharing a room and will need to bring your own bedding or sleeping bag and towels. You will be assigned to a KP (Kitchen Party) group to help with simple meal prep and cleanup for a few meals during your stay.
We are unable to provide child care at this time. Nursing infants are welcome, however.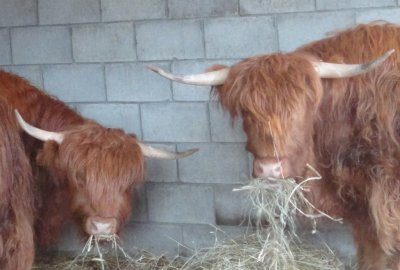 Frick & Frack, our Scottish Highlander cows
Faculty
Roberta Miday Haupt, Barbara S. Dewey, John Quimby
Schedule
Arrive Friday evening, August 10, between 4 and 6 pm to settle in and have dinner.
Evening Program
7:30 -- 9:30 pm Orientation and Development of the Child - Playroom tour
Photo by Lea Kushwara
Saturday
Wake-up
7:00 am
Exercises (or KP)
7:30
(or walk in the country)
Breakfast
8:15
Clean-up KP
9:00
Morning Session
9:45 – 11:45
Home organization and the Cycle of the Year
KP
11:45
Lunch
12:30 pm
Clean-up KP or rest time
1:15–2:00
Afternoon Session #1
2:15–4:00
Puppetry and Storytelling

Afternoon Session #2
4:15-6:00
Natural Dyeing and Kindergarten Handwork
KP
5:30
Dinner
6:15
Clean-up KP
7:00
Evening program
7:45 – 9
Puppet shows

Campfire
9:00
Lights out
10:30 pm
Sunday
Wake-up
7:00 am
Exercises (or KP)
7:30
(or walk in the country)
Breakfast
8:15
Clean-up KP
9:00
Morning Session
9:45 – 11:45

Painting - Roberta
Toymaking with Wood - Quimby


KP
11:45
Lunch
12:30 pm
Clean-up KP or rest time
1:15–2:30
Afternoon Session
2:30–4:00

Sharing Nature with Children -Quimby
Music for Kindergarten




Closing
4:00 – 4:15
Faculty Biographies
Roberta Miday Haupt teaches Parent and Child Classes at Spring Garden Waldorf School in Copley, OH. and a kindergarten class, Mornings Children, in Cleveland Heights, OH with area home schooling families. She developed a puppet troupe dedicated to bringing puppetry to children, currently performing at area farmers markets and civic art programs. She completed Waldorf Early Childhood Training at Sunbridge College in New York, completed a one week intensive with Suzanne Down and Nancy Blanning on Puppetry and Movement at the Rudolph Steiner Institute, currently attending GCU. Roberta is a mother of four sons and a grandmother.
Barbara S. Dewey, of Waldorf Without Walls, publishes a quarterly newsletter, writes publications, provides training workshops, and spends her spare time with husband, Quimby, family and friends, enjoying her unique solar home, and developing her farmland. She is the mother of four and grandmother to six. Barbara holds an M.S. in Waldorf Education from the Waldorf Institute of Sunbridge College in Spring Valley, N.Y. She has been teaching for 53 years.
John Quimby, after earning degrees in Entomology and Forestry from the University of Michigan, he was the State Forest Entomologist and Chief of the Forest Health Program of Pennsylvania for 30 years, and a Forester for the U.S. Forest Service in Alaska, Minnesota, Michigan, Colorado, and South Dakota for five years before that. Since retiring from forest entomology in 1999 'Quimby' (as he is called), has been devoting his time to cabinet making, planting trees, social action, and environmental education for youngsters. He has worked part time/full time for the Chesapeake Bay Foundation, and was named "Environmental Educator of the Year" by that organization in 2007. Several past summers have been spent guiding canoe trips for youngsters in the Adirondacks of upstate New York State. In that capacity he has run workshops on wildflower identification, tree identification, and other environmental education themes, as well as taken youth out into the wilderness for a week at a time.
Registration form:
Tuition includes all meals, program and accommodations. You will be sent a confirmation packet with more details upon registration. Couples receive a 25% discount, enter 2 adults and check the box for the discount.
You can register with PayPal or print this form and mail a check to Barbara Dewey, 89900 Mill Hill Road, Bowerston, OH 44695
Need more information? Contact Barbara at 740-269-3038